Product characteristics
The Zen japanese bed has a minimalist design with a compact bed frame.
This bed in ecofriendly beechwood is suitable for all types of rooms, especially small rooms with little space. This version is without tatami and it has a straight slatted base but you may choose the curved multilayer beechwood slats from the accessories. Both types of slats can contain each of out futons or classic mattresses. The Zen bed belongs to the category of the Arpel japanese beds.
Measures
Internal measures: variable. This bed is available as a single, french, double or king size bed.
External measures: 7 cm more than the internal measures. For example: A bed with internal measures for a 160x200 cm mattress will have the following external measures:167x207
Bed height: variable up to a height of 30 cm there is no extra cost
Custom: the mattress size and bed height of this bed are customizable. Ask for a price quote
Zen model tilted wooden headboard: It consists in a wooden panel that is inserted through inclined millings in the side panels of the bed.The space taken up by the headboard in the bed is 5 cm. To mantain the selected internal measures we will therefore make the bed 5 cm longer at no extra cost. This means that a bed with a headboard selected for a mattress of 200 cm will have and internal length of 205 cm and an external length of 212 cm. Since the headboard is tilted outwards, we recommend to consider a total length of 218 cm.
External tilted wooden headboard: it's possible to accessorize the bed also with a tilted wooden headboard that is fixed externally to the head panel with metal screws. The price is the same, just request this variant when ordering. This headboard protrudes about 11 cm from the bed frame so for a bed with an internal length of 200 cm, the total length is 218 cm
Colour customization
For more information see wood colourings
Customization of the foot shape and headboard

The Zen bed can have 3 types of feet : square, round or with a 45° cut. These 3 variants apply also to the headboard. We generally recommend a trapezium form for the headboard if you want to soften the visual impact.
Materials
Bed frame, feet, headboard: in solid laminated beechwood
Standard slats: standard 1.8 cm thick straight firwood slats are included in the price
Other slats: it is possible to select straight solid beechwood slats or curved ergonomic multilayer slats with lumbar stiffness regulators from the accessories
Tatami
This bed can contain japanese tatami. See the Zen bed with tatami.
Assembly
This bed belongs to the category of beds which do not use metal parts in the assembly. The headboard may require the use of metal parts in the assembly, depending on the selected model.
Care and maintenance
If treated, the wood may be cleaned using only a damp sponge without solvents or detergents. If natural, it may only be dusted or vacuum cleaned.
Accessories
To complete the bed, select a headrest or futon from the accessories. If you wish to sleep on a japanese mattress, find out more about our Futon, if you want a modern, ecological mattress, check out our Bio Memory mattresses.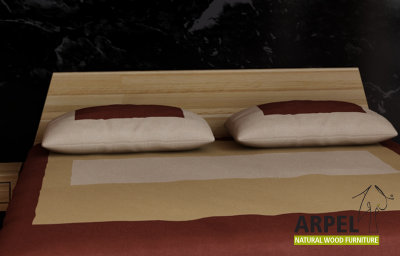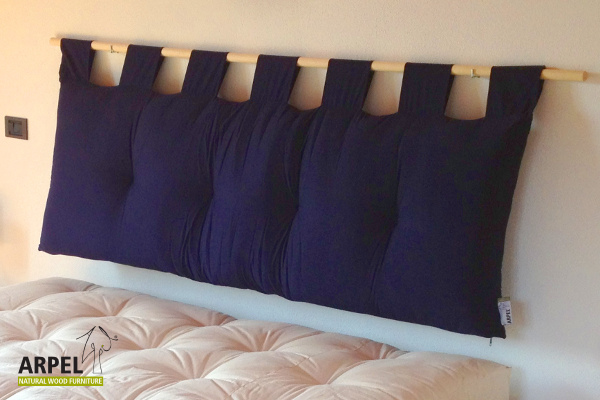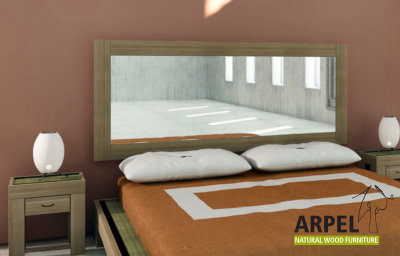 Arpel offers several bedside tables to match the Zen bed. When ordering, it's possible to request two types of suspended bedside tables with or without an integrated drawer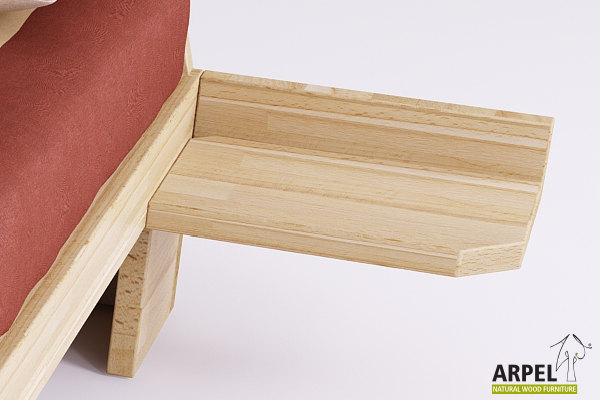 The straight firwood slats must be fitted into specific slots in the side panels of the bed frame.