Payment methods
Order options
You can order directly on this e-commerce website, by e-mail at info @ arpel.eu or by fax at 0039 (0) 51 6750290, referring to the online catalogue. The order must contain the desired product and your personal data:
- Name, Surname or Company Name when the invoice will be charged to a company
- Tax Code or Vat Number if the invoice will be charged to enterprises or freelance professionals
- Residence or Legal Residence
- Shipping Address if it differs from the Invoice Address
Info and Opening hours
You can contact our office by phone during the following hours:
- Monday to Friday: morning 8.30-12.30, afternoon 13.30-18.30
- Saturday : morning 8.30-12.00
Office phone 0039 (0) 51 6750290
Availability mobile phone 0039 347 7193143
Online payment options
Arpel collaborates with verified partners to guarantee 100% secure payment options and complete privacy regarding the customers personal data.
Bank Transfer
With this payment options, the you can choose between 2 possibilities:
- advance payment in one solution with a 2% discount on the total amount of the order.
- payment with two separate transfers, the first upon order confirmation and the second when the goods are ready for shipping.
When you choose this method of payment, you will receive an order confirmation containing the details of your order and a separate e-mail with our bank details for the wire.
The order is considered confirmed once we receive the wire on our bank account.
To speed up the process, you can also send us a proof of payment at the address support@arpel.eu. This way we can begin the production of your order without waiting to see the transaction on our bank account.
Paypal
Paypal is the safest on-line method of payment. Through Paypal you can pay with your credit card, a prepaid card or directly with your Paypal account. This way you don't have to communicate any bank data with Arpel. It just takes a few clicks to pay in complete safety with Paypal.


Credit Card
Payments with credit card are available through Visa and Mastercard circuits. Your personal data will not be visible to Arpel as it is managed directly by Visa and Mastercard circuits.


Sofort
Sofort is a system offered by Klarna for easy and secure direct online bank transfers as it does not require the creation of an account. With this method of payment, the transfer will be processed immediately (at most within 1 day).
With Sofort your use own secure online banking details and no personal information or card details are shared with us. The entry of your online banking details occurs entirely in the secure payment form of Sofort GmbH, where we have no access.
To pay with Sofort, select this method of payment in the check out process, you will then be redirected to their website to complete the transfer. We will receive an immediate confirmation of the payment with this method and begin to produce the goods you ordered. For more details about this payment method visit this page: https://www.klarna.com/pay-now-with-direct-banking/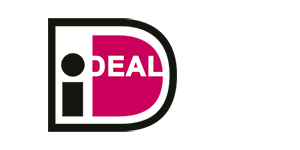 iDEAL
iDEAL is a secure online payment method that enables you to pay online through your own bank.
With iDEAL your use own secure online banking details and no personal information or card details are shared with us. In addition, we recevie an immediate payment confirmation so we can elaborate your order quicker than with other payment methods.
Cash on delivery
This method of payment is not available at the moment.