Product characteristics
The japanese Aiko Tatami bed has a minimalist design and compact 9 cm thick bed frame. This bed in ecological beechwood adapts to all environments, it is especially indicated for small rooms. The feet add a particular touch to this bed as they are cut at a 45° angle. This version with tatami is also equipped with rigid wooden slats that are ideal for supporting japanese tatami mats. This base is perfect for any of our futons or classic mattresses. To allow the tatami to stand out we recommend selecting the bed a bit bigger than the mattress. To allow the tatami to be visible also at the foot of the bed we can add a 10 cm wide wooden panel at the head of the bed. Because the tatami mats are all 200 cm long, this is the only way to make the bed longer. The Aiko platform bed with tatami belongs to the category of Arpel japanese beds.
Measures
Internal measures: variable. This bed is available as a single, french double and king size bed
External measures: 18 cm more than the selected internal measures. Example: a bed with internal measures for a 160x200 mattress will have the following external dimensions: 178x218
Length with the additional wooden panel: 10 cm more than the standard length
Bed height: variable. Up to 30 cm there are no extra costs
Custom: The mattress dimensions and height of this bed can be customized. Ask for a price quote
Aiko model headboard: This bed can be accessorized with an Aiko model headboard. The headboard is fixed to the head panel using specific screws for this purpose. The lower half of the headboard is straight and forms a 90° angle with the head panel. The top half of the headboard is slightly inclined but it does not protrude from bedframe, so it does not take up any extra space.
Zen headboard: You may also opt for a Zen headboard instead of the Aiko one, the trapeze formed headboard in particular matches perfectly with the feet of the Aiko bed.
Colour customisation
For more information see Wood colours
Materials
Bed frame, feet, modules and headboard: in solid laminated beechwood
Standard slats: straight 1.8 cm thick firwood slats are included in the price
Other slats: it is possible to select straight solid beechwood slats from the accessories. It is not possible to select curved ergonomic beechwood slats with a tatami mat base. Generally our bed bases with tatami mats have less slats than normal bases. This solution is perfectly stable and more economic. if you wish to have the full number of slats so that you can use the bed also without a tatami you can select this option above.
Tatami
This bed contains japanese tatami mats. if you prefer a classic base, see the Aiko bed without tatami.
Assembly
This bed requires the use of metal parts in its assembly
Care and maintenance
If treated, the wood may be cleaned using only a damp sponge without solvents or detergents. If natural, it may only be dusted or vacuum cleaned.
Accessories
To complete the bed, select a headrest or futon from the accessories. If you wish to sleep on a japanese mattress, find out more about our Futons, if you want a modern, ecological mattress, check out our Bio Memory mattresses.
High quality tatami
Our tatami is of very high quality, in fact the weave is visible both on the upper and bottom side; this proves that it has been made with a high workmanship and it garantees that the mats have been properly fumigated. To discover more about this process contact us. Another element that distinguishes our tatamis, is that their weight is quite consistent; this garantees that they have a thick and sturdy weave that can support great weights and lasts long over time.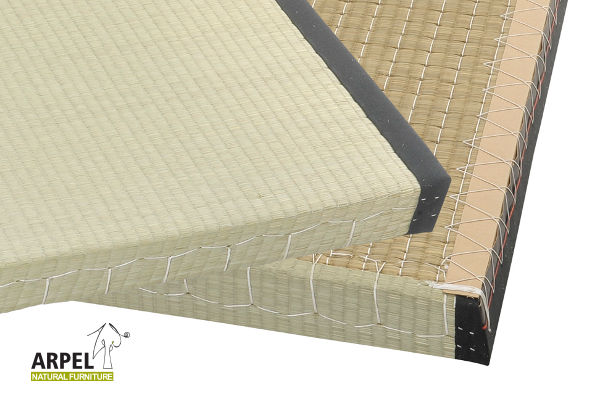 Accessories
Add these fundamental accessories to your cart to complete te Aiko bed:
Examples of a wooden and futon headrest

Example of cushin headrests