Product characteristics
The japanese Aiko platform has a minimalist design and compact 9 cm thick frame. This beechwood bed adapts to every type of environment, even rooms with little space. The feet add a particular touch to this bed as they are cut at a 45° angle. This version without tatami is provided with straight beechwood slats but it's also possible to select curved ergonomic slats in multilayer beechwood. Both versions can be combined with a Futon or classic mattress. The Aiko platform belongs to the category of Arpel japanese beds
Measures
Internal measures: variable. This bed is available as a single, french, double or king size bed.
External measures: 18 cm more than the selected internal measures. Example: a bed with internal measures for a 160x200 mattress will have the following external dimensions: 178x218
Bed height: variable, up to 30 cm there are no extra costs
Custom: The mattress dimensions and height of this bed can be customized. Ask for a price quote
Aiko model headboard: This bed can be accessorized with an Aiko model headboard. The headboard is fixed to the head panel using special screws that are specific for this purpose. The lower half of the headboard is straight and forms a 90° angle with the head panel. The top half of the headboard is slightly inclined but it does not protrude from bedframe, taking up extra space.
Zen headboard: You may also opt for a Zen headboard instead of the Aiko one, the trapeze formed headboard in particular matches perfectly with the feet of the Aiko bed.
Colour customisation
For more information see Wood colours
Materials
Bed frame, feet, modules and headboard: in solid laminated beechwood
Standard slats: straight 1.9 cm thick firwood slats are included in the price
Other slats: it is possible to select straigh solid beechwood slats or curved ergonomic multilayer slats with lumbar stiffness regulators from the accessories
Tatami
This bed can contain japanese tatami. See the Aiko bed with tatami
Assembly
This bed requires the use of metal parts in its assembly
Care and maintenance
If treated, the wood may be cleaned using only a damp sponge without solvents or detergents. If natural, it may only be dusted or vacuum cleaned.
Accessories
To complete the bed, select a headrest or futon from the accessories. If you wish to sleep on a japanese mattress, find out more about our Futon, if you want a modern, ecological mattress, check out our Bio Memory mattresses.
Aiko headboard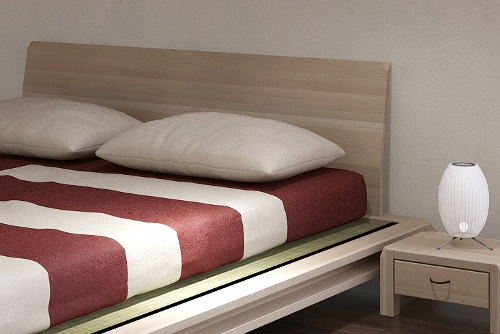 Alternative headboard examples: two cushins or a futon headrest.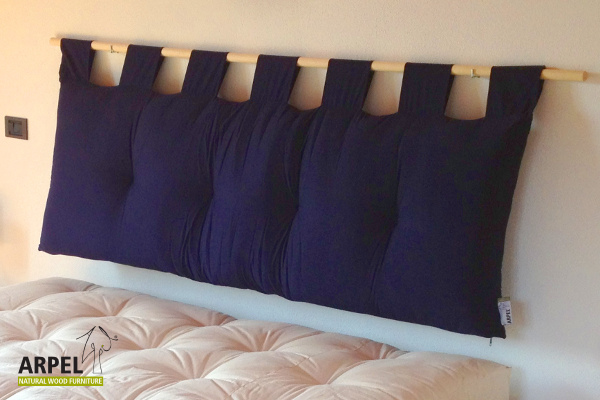 Arpel also offers several different bedside tables to match the Aiko bed. These can be found in the accessories. The image below shows one model we recommend.