Fitted and walk-in wardrobes
Arpel can create your fitted wardrobe using solid beechwood both for the japanese doors as for interior fittings. The internal structure is designed with the customer to fit his or her needs. At the end of the page you can find examples of internal structures.

We define walk-in closets as having the following characteristics:
wall to wall closure with japanese doors
a small room closure with 1 or maximum 2 doors in japanese style
a closure of a small room with sliding pocket doors in japanese style
a closure from a wall to a vertical wood element with japanese doors
The walk-in closet system allows to close a specific space of your room with traditional japanese doors to form a closet. The final effect will be a perfect closure from the ceiling to the floor.

This option is possible in Italy and Germany where we can assemble the closet directly in your house.
When asking for a price quote:
Don't forget to specify the dimension of your room and the place where you want to install the closet.
Please include a photo if possible. It helps us offer you the best solution for your room. After the estimation, we can also send a project in 3D rendering and samples of the wood colors and coatings.
Ask for a price quote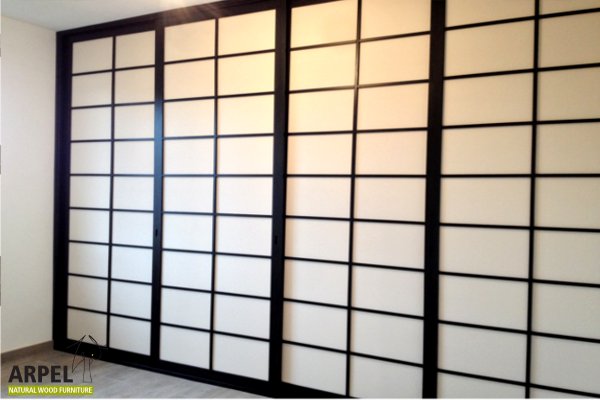 The walk-in closet design recalls the traditional shoji style used to divide rooms in japanese houses.
The doors are available in several wood colors. The door can be made with wooden panels coated with ecru fabrics, basic wood panels or original rice papers.
The sliding systems can be the traditional wood-on-wood systems or they can use metal runners placed on the ceiling.
Internal structure
In general, the inner space is divided in a number of sections equal to the number of the doors. However this is not a rule and different solutions can be evaluated.
The sections can be separated with column modules or vertical panels.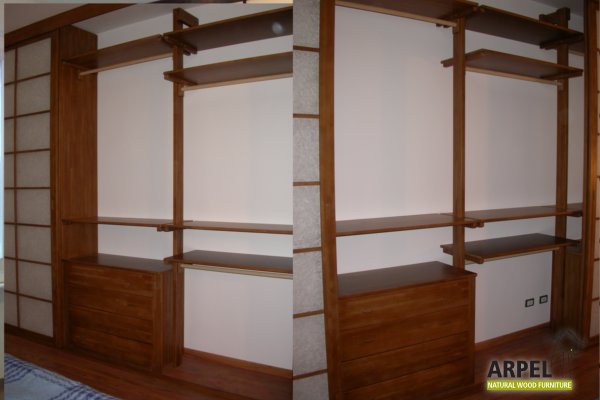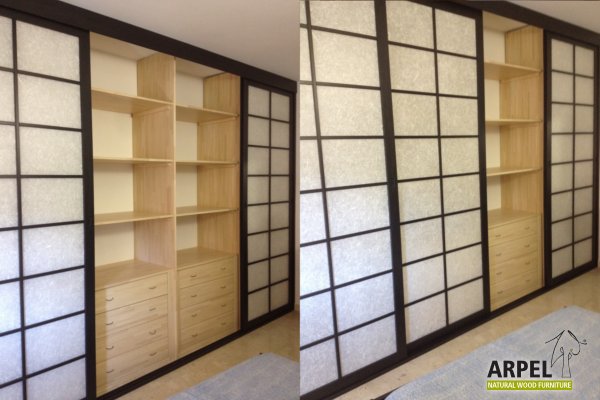 Column modules can be fixed to the wall or to the ceiling while the panels reach from the floor to the ceiling or a horizontal panel.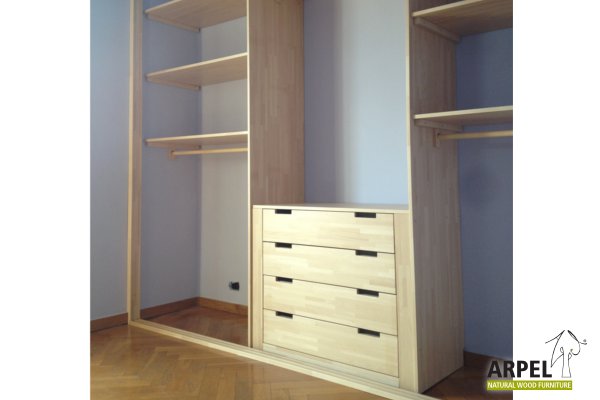 It's possible to request the following items for the inner structure:
shelfs
base elements installed from column to column
vertical sweater holder modules
hanger rods
drawer modules with 2, 3 or more drawers
The drawer modules of our walk-in closets are made in solid beechwood and they can have different pull-out systems
wood-on-wood, according to the japanese tradition
invisible sliding rails made by Blum with a soft closure system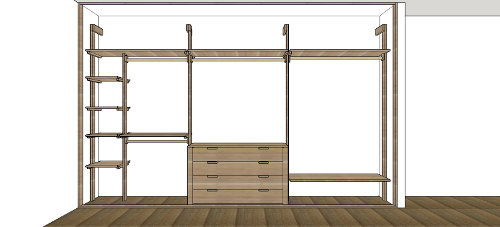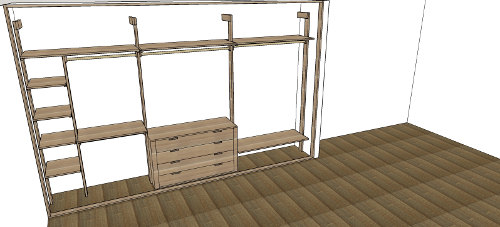 Sloping roofs
In buildings with sloping roofs we can make perfect closures with rails. The slope can be compensated with several solutions depending on the situations.