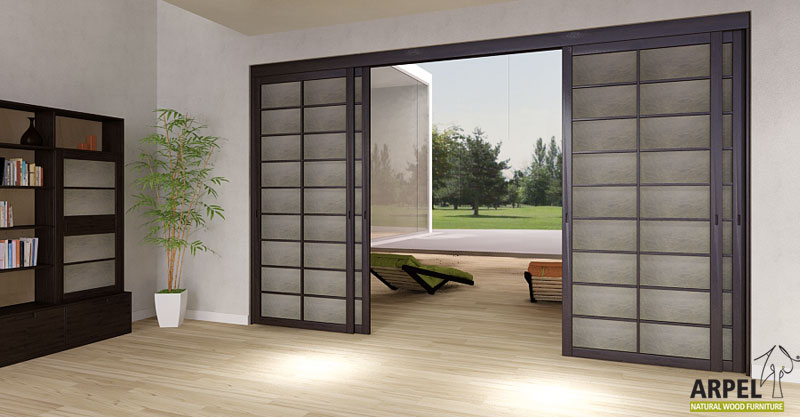 Japanese sliding doors
The sliding doors with japanese shoji paper make a great visual impact! Elegant and sophisticated, they are generally used as doors to divide a room in two parts or to create walk-in wardrobe. Japanese sliding doors are generally used for:
dividing a living room and kitchen
dividing day and night areas in the house
splitting one room into two
creating an entrance
Estimation or information requests
Sloping roofs and japanese doors
In houses with sloping roofs, the japanese sliding doors can still be installed easily. Depending on the type of roof, it's possible to create:
diagonally cut wooden beams to compensate the sloping angle


floor-roof closures using Shoji walls with a diagonal cut that can be fixed or on hinges. The sliding doors can then be placed underneath this closure.

Japanese doors for couple roofs with exposed wooden rafters
If you have a couple roof with exposed wooden rafters, we recommend installing plasterboard closures above the doors. The combination of different materials will highlight the design of your ceiling.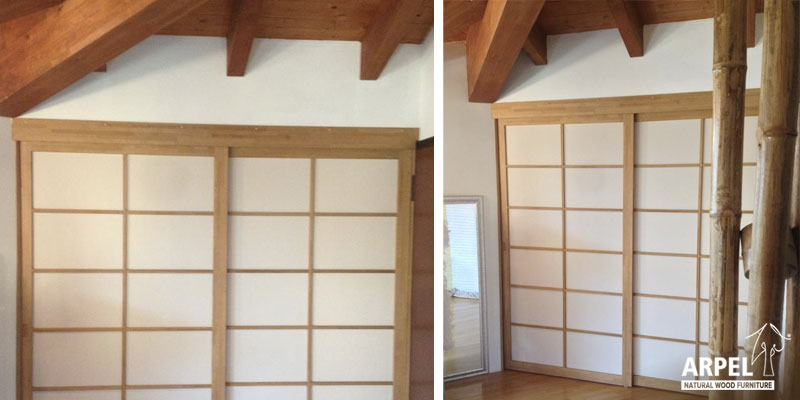 Sliding system for japanese doors

The most common sliding system for a room divider is with metal tracks placed on top of the closure and covered with wooden panels. This solution leaves the floor free of runners.
The frame of the division can be completed with wooden beams along the walls where the sliding doors come to a halt. These elements even out possible imperfections of the walls and they have grooves that act as end slide guides for the doors.
The doors run on special invisible dowels screwed to the floor to avoid any swinging movements.

If the partition consists of 3 doors that must be all openable to one side or the other side it is necessary to install a triple track so each door runs in it's own track and it will be necessary to use a wooden runner on the floor to guide the doors and avoid swinging movements while bringing them from one side to the other.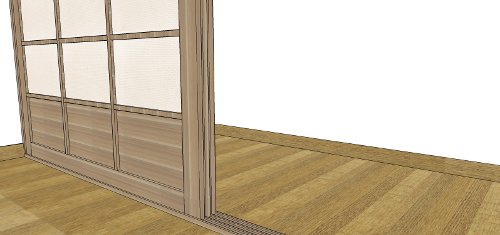 A wood on wood sliding system is, as a matter of fact, the most typical sliding system you will find in japanese homes, but this system is best indicated only for lightweight doors with simple paper or fabric covering.
The runners can be applied on top of the floor as in fig. 1, or they can be built into the floor as in fig. 2.
We can also produce the runners with sloping borders to reduce the risk of stumbling over them when walking through the partition.
The slope can be applied on only one side as in fig. 3, or on both sides as in fig. 4.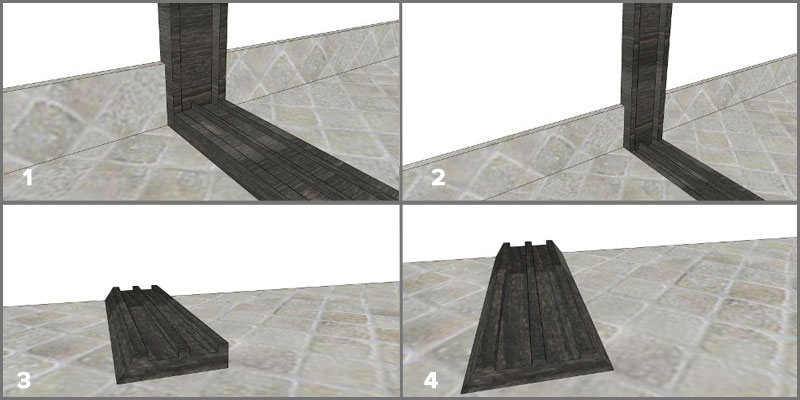 Tracks fixed to the wall or ceiling: two solutions for japanese sliding doors
If the tracks are fixed to vertical walls, the doors must slide externally along the wall. If the tracks are fixed to the ceiling, the doors can slide within the opening.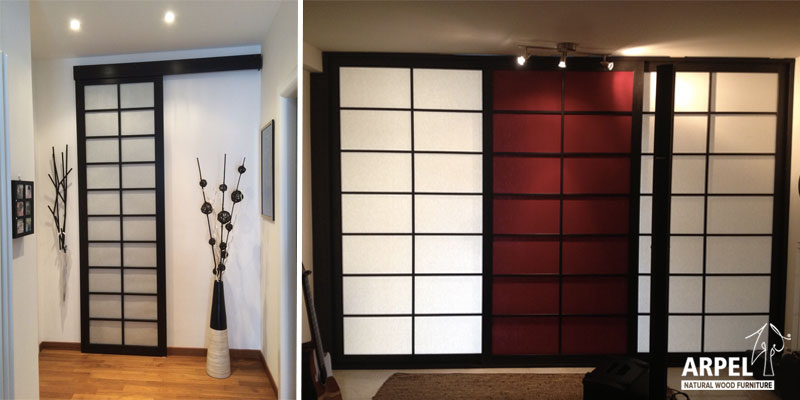 fixed to the wall fixed to the ceiling
Door width: double or single sided grids
The doors can be produced in several widths. Sliding doors for room partitions should generally have a wooden grid on both sides as they are always visible. Depending on the width, the grid can be made in different ways:
19 mm thick doors; in this case a 12 mm thick wooden grid is applied on one side. On the other side we apply only 4 mm wooden strips.
26 mm thick doors; for two-sided grids with thin door coverings like simple fabric, or Washi rice paper. 12 mm thick wooden grids are applied on both sides.
32 mm thick doors; ideal for any type of door covering. The double-sided grids are 12 mm thick and it's possible to have thicker door covering materials such as fabric on wooden panels or rice paper on plexiglass panels.
Pocket sliding doors
We can also create 42 mm thick pocket doors that slide inside walls. We work well with tracks made by Scrigno or Eclisse but we can also evaluate other sliding system producers.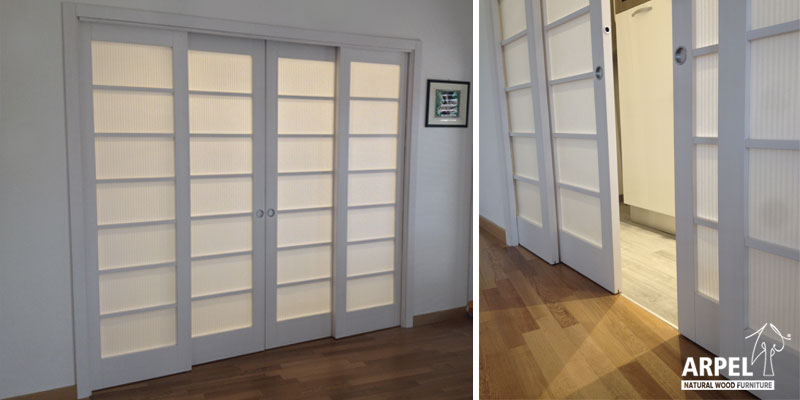 Moreover we create 42 mm thick swinging doors on hinges in japanese style.
For the pocket and swinging doors we create all the necessary profiles and provide an anti-dust kit.
For all these types of doors we can also add lock systems.
Door coverings for japanese doors
If you prefer semi-transparent door coverings that allow light to shine through, we can offer the following options:
rice papers with double-sided PVC coating
Rice paper on rigid polycarbonate layer
Rice paper on plexiglass
If you prefer an opaque covering that blocks out light when closed, we offer the following options:
wood panels covered with fabric on one or both sides
natural wood panels unfinished or lacquered with eco-friendly water based finishings
It's also possible use our Shoji doors to create partial closure of a room to create a sense of division in two separate spaces without fulling closing them off from each other.